What is Semi-Permanent Nail Polish or Gel Polish?
Semi-permanent nail polish, Gel Polish or Gel Polish are different names for the same product. UV nail polish, which sums up the characteristics of the UV gel and the classic nail polish.
The semi-permanent nail polish is a light-curing product applied on the nails like a regular nail polish. But which, unlike this. must be fixed using the specific UV lamp or LED lamp. It is an alternative to Gel, but only if necessary to rebuild the nail.
The semi-permanent nail polish ensures a well-groomed and perfect appearance for at least two weeks. It increases, gradually to the eye, the thickness of the nails and making them more resistant and beautiful.
The procedure for performing a manicure with semi-permanent nail polish is similar to that of a traditional manicure.
The nails must first be filed and cleaned before a transparent layer of Gel Polish is applied. Then the colored semi-permanent polish, and finally the covering to seal and shine the nails.
How to Remove?
Removal is quick and easy, as it does not require deep filing, and in many cases, only a special solvent can be used.
What Are Nail Building Gels?
The Gel for nail reconstruction is more viscous than the semi-permanent polish. It also reacts to UV light becoming, after exposure, a product with a challenging and resistant finish. It is usually present in a jar and not in a brush-on bottle.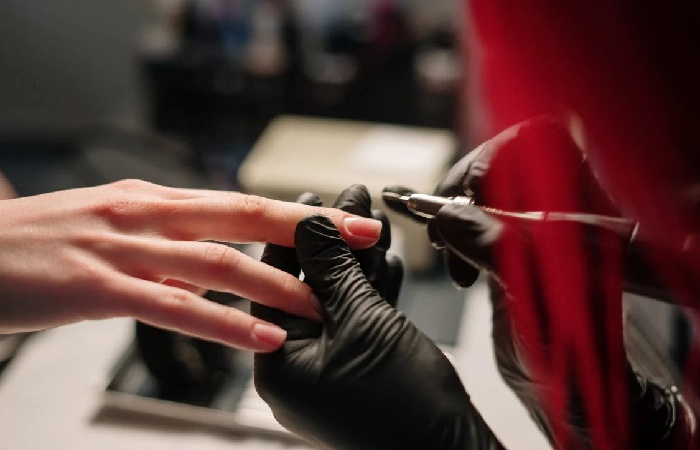 The best Gel for nail reconstruction, such as RobyNails gels, facilitates the professional's work. It has excellent adhesion on all types of nails, and allow faster application times.
The UV gel for nail reconstruction, unlike the Gel Polish, allows you to perform extensions with both tip and paper and to be able to achieve even extreme lengths.
When To Use Semi-Permanent Nail polishes?
Semi-permanent nail polish is a photo-curing gel product, available in a bottle with a brush, sensitive to ultraviolet light, and is suitable for women who They have little time to dedicate to manicure. But at the same time, they want a lasting solution without being too invasive have natural nails.
When To Use Nail Building Gels?
Gel reconstruction is a technique that mainly allows you to give the nail a new shape or length.
It is also possible to cover natural nails with UV gel without performing any lengthening of the same.
It is a very resistant and durable manicure service for about thirty days.
For removal, remove any remaining gel it is essential for filing even the Gel dries and solidifies using a LED LIGHT/UV – also known as a nail oven – as gel polish.To avoid damaging the nails, it is essential; to contact professionals in the sector.
They adequately guarantee the use of high-quality materials and that all hygiene standards are respected.
Gel polish
Although many people love to take care of their hands, using manicures and nail art of all kinds, many of them often do not have clear.
To help you select which treatment is best for you and clarify the differences once and for all. here is everything you need to know about gel polish and semi-permanent polish, plus the advantages and disadvantages of these two uses.
What It Is? Advantages And Disadvantages.
Gel polish is one of the essential products for the reconstruction of broken, damaged, and weakened nails. This nail polish gives the nails a thick and rounded effect.
However, it needs a LED or UV lamp for polymerization and has a longer life than the semi-permanent (it lasts up to a month). But, compared to the latter, it is more complicated both to apply and remove.
On the other hand, gel polish is very complicate both to apply and remove, so much so that it necessarily requires the intervention of a professional. And it has a higher cost than the semi-permanent.
Among the advantages of gel polish, we find its greater durability and resistance and the possibility both to reconstruct and shape the nails to your liking and to apply stencils or create spectacular nail art.
USES
Can You Use Gel And Semi-Permanent Products Together?
Of course. It is possible to apply any of the shades of Gel Polish on the nail reconstruction or retouching on top of the builder gel . In this case, to remove the semi-permanent nail polish, you can use the file and not the solvent dedicated to the gel polish.
The colored Gel Polish is applied on the builder gel with extreme ease, spreading it in two thin layers and polymerizing it in the UV oven or the LED lamp.
It is essential to emphasize that, unlike the RobyNails Color Gel, which does not have a dispersion layer and is shiny after curing. The Color Gel Polish needs a closing gel to obtain the final shine.
Nail Reconstruction Gel
With the term gel nails or gel reconstruction, we refer to the reconstruction using a specific gel substance of the nails.
It is a technique that involves using a genuine kit of product used for the reconstruction of damaged nails, for their reinforcement, or simply for embellishment.
It consists of a light-curing gel treatment, which guarantees resistance and excellent durability, giving the nail a slightly rounded effect.
And also, it will give the pin a wider and rounded effect or pointed, depending on your preferences, by choosing the length.
As for the application, relying on qualified personnel, with a session lasting between an hour and a half and two hours, you can get a result that lasts even a month.
Conclusion
Final words of the two techniques, the one most easily adopted independently is undoubtedly the use of enamel. For gel reconstruction, often used for aesthetic reasons, it is better to contact qualified personnel.
Also Read: Fashion Beauty Palace