A beauty and skin health ritual to be repeated morning and evening to rebalance your natural pH, detoxify , cleanse and deeply cleanse the dermis .
The choice of your skin care routine is very personal, the products to use and to insert as a step are many.
How to make the choice?
Simply by listening to your skin and meeting its needs, trying to fill the gaps or balancing the abundances .
By following the beauty regime that best suits you every day, with constancy and a little patience you will be able to see the first beneficial effects already after two weeks.
Your face will regain the healthy and radiant glow of the past, making you shine like a star!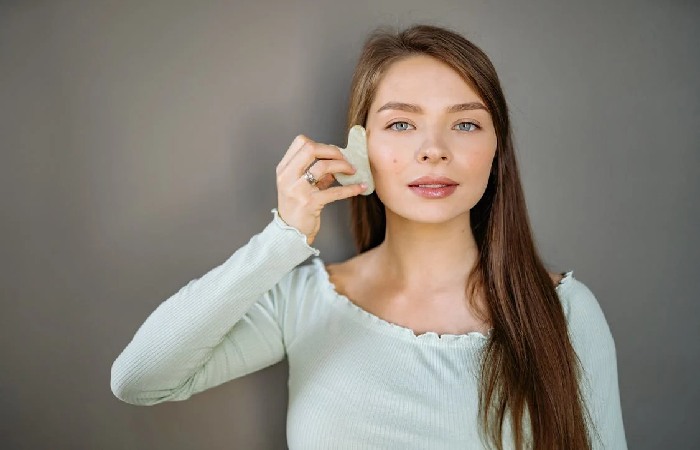 Each skin type has its own skin care routine
How many times do we go to the pharmacy, perfumery or visit the creams and skin products section of our trusted site, sure of what we want to buy and end up buying nothing?
The many words and the infinite choices of specific face creams can send us into a tailspin, so knowing the needs of your dermis is essential.
Putting aside the so-called " specific cases " and various pathologies for a second , the first thing to identify is our skin type .
And this is an essential step , without knowing how to recognize it, in fact, it will be impossible even to choose a simple foundation or a moisturizing face cream .
Oily Skin
This type of skin is typical of adolescence .
In fact, in the first place among the main causes there are hormonal alterations , where androgens prevail, followed immediately after by the consumption of junk food and a diet high in fat.
The face is oily due to the excessive production of sebum by the sebaceous glands.
It is not unusual to find numerous comedones , pimples and blackheads due to the impurities deposited in the enlarged pores.
We suggest preferring products with a sebum-regulating , purifying , detox and restorative action, combined with regular face scrubs and sebum- normalizing vvmasks .
Dry skin
We often tend to include in this category two types of epidermis , the really dry one and the dehydrated one .
How to distinguish them?
By dry skin we mean a fragile , thin and prone to cracking skin whose cause is to be found in the scarce, almost absent production of sebum .
When we talk about skin dehydration we mean a real lack of water, which leads to a dull complexion , cracking and little elasticity for a rapid aging of the dermis .
The causes can derive from external factors , such as particularly harsh climate or physiological and genetic factors : age, pathologies, genetics …
The choice of products will fall on moisturizing face creams , multivitamin and soothing masks .
Mixed Skin
When we find this wording on the labels and indications of a face cream, nourishing mask or a natural exfoliant , we often get confused with " all skin types " which means everything and nothing.
The face in this case appears not very homogeneous , it will be subject to more attention and different products or depending on the areas to be treated .
the dermis in the so-called T-zone (nose, forehead and chin) appears greasy and rich in sebum , just like in the case of oily skin .
On the contrary, the other areas of the face tend to dryness and dehydration , just like dry skin.
The causes are almost exclusively to be pointed out to a genetic predisposition.
Indication on the products: in the absence of specific products it is recommended to choose two different types to treat the different areas of the face .
Sensitive and Delicate Skin
The sensitive skin is a real epidermis condition , is widespread among women than men and is often underestimated.
It is easily recognized because it has multiple fragilities: redness, burning, skin reactions and is also more predisposed to the formation of wrinkles and signs of aging.
In most cases, sensitive skin originates from incorrect beauty care behaviors .
Prolonged choice of face products that are unsuitable for your skin, or low-quality face creams with highly harmful chemical ingredients , can cause numerous sensitivity damage to the dermis.
The most visible signs are the early formation of skin spots , couperose, frequent erythema, rosacea and dermatitis .
In this case the treatment with soothing products , natural cosmetics or natural origin is very important .
Face products necessary for an Ad Hoc skin care routine
Now that we are able to recognize and dedicate the necessary care to our skin type, we can more consciously choose the right skin care routine products for us.
The categories are standard for everyone, it will be up to us to go to consult the labels and buy the formulation indicated for our skin.
Here are the steps to follow day and night for a healthy and radiant skin.
1. The Detergent
This facial product is essential to eliminate impurities and free the pores of toxins and residues of previously applied products.
On sites and shops dedicated to the sale of cosmetic products it can be found in the form of mousse , cleansing milk or gel .
It can have a second function combined with cleaning and cleansing and must be rinsed with water.
2. The Tonic
Here it is, one of the most underestimated skin products by most women.
The tonic, on the other hand, has a very important function in the skin care routine: that of further and deeper freeing the pores of toxins and products, preventing the skin from drying out and neutralizing the action of the cleanser.
It comes in the form of a rapidly absorbed liquid and leaves the skin soft and radiant. It does not require rinsing.
3. The Serum
A miraculous liquid with a high concentration of active ingredients for a quick and immediate action .
It should literally be applied with the dropper , in fact it is often enclosed in beautiful bottles with the latter replacing the cap.
He more than other products should be chosen according to the type of skin and the pathologies to be countered.
There are multivitamin serums , to give radiance to dull skin.
Regenerating serums , which help restore the skin's natural lipid film and PH.
Lifting, or lifting effect serums that counteract the breakdown of muscle tone.
They bring improvements to expression lines and those caused by exposure to UV rays or the passage of time. Product without rinsing.
4. The Face Cream
Its formula changes depending on when it is apply on face. Day face cream is usually rapidly absorbed and in gel form , to form an excellent and stable make-up base.
Night face cream tends to be oilier and creamier , to amplify nourishment during the hours of rest.
It constitutes an important support to the action of the serum , it is without rinsing and there are many types.
Moisturizing and restructuring face creams for dry and dull skin , sebum-regulating for oily and impure skin , anti-wrinkle face creams with lifting effect or antioxidants for mature skin .
Face masks in the skin care routine
There are all types and for any skin, they are colorful and fragrant , face masks in recent years have undergone a great evolution.
They can be applied to the face and left to act overnight, rinsed off in the morning.And remove after 10-15 minutes of laying on the skin.
Healthy and glowing skin
Lifting Mask
The funniest ones are the peel-off face masks . usually with a purifying action , which once completely dries and remove like a film.
There are charcoal-based against blackheads , with a formula rich in vitamins to nourish and make dull skin shine .
Face masks with hyaluronic acid that perform an anti-wrinkle action and lifting effect.
Up to the very precious Gold Mask , masks made of real 24K gold dust with a plumping , cleansing and toning effect .
Can masks fit into daily skin care ?
Unless specified in the indications, it is preferable to carry out skin treatments with masks once a week.
Depending on the active ingredients contained, the pause time between applications can be up to 15 days.
This is because being long the shutter speed, they are a real bomb for the skin.
It's always good to combine it with other beauty routine products to maintain consistency .And obtain visible results in less time.
Face Scrubs and Exfoliants for your daily skin care routine. Yes or no?
This category of products are consider the most delicate.
And use with the most attention because it could give rise to skin problems and pathologies.
The scrub and exfoliating act or to mechanical action or by enzymatic action.
The first, mechanical exfoliants , contain microgranules in the formula which, when gently massaged on the surface of the skin.
And remove dead cells and toxins and stimulate their renewal.
The enzymatic exfoliants instead are usually in cream and carry out a peeling of the surface layer of the dermis thanks to the ' action of chemical components.
Exfoliating Mask
Face and Body Mechanical Exfoliator
Enzymatic Facial Exfoliator
Precisely because of the " cleaning and elimination" action of the epidermis.They are not recommended for those suffering from sensitive skin and dry skin.
It could cause severe irritation, redness and burning, severely damaging the natural balance of the skin.
On the other hand, they  highly recommends for those suffering from acneic, seborrheic and oily skin . as it purifies and helps to re balance the PH.
Therefore,the skin immediately appears luminous and smooth … but be careful to use it 1-2 times a month at the most!!
SPF face creams
We can now find the wording SPF everywhere, from face creams to make-up ( foundation, lipsticks and lip balm ).
Foundation SPF 15 Velvet Foundation
But what is it for?
SPF stands for Sun Protection Factor , or sun protection factor.
Equivalent and identifiable with a number, SPF creams range from 6 which offers very low sun protection to SPF 50+ for very high protection.
Until a few years ago we only read it in summer , when we went to buy sunscreen to prepare for the days at the beach .
Face Protection SPF
Today, experts and dermatologists have highlighted when the sun's UV rays damage the skin .
It causes sunspots , premature aging and weakening of cells.
The sun kisses us every day, good and bad not only when we are on the beach!
Applying a sunscreen or preferring SPF foundation to the face is very important to preserve the health of the skin .
Healthy eating, a special ingredient to add to your skin care routine
Did you know that cleansers , creams , masks and all the ingredients of your beauty routine have a greater effect on the skin .if supported by a healthy and balanced diet ?
We are what we eat.
To get purified , smooth, nourished and even complexion skin , start the day with foods rich in cereals and calcium.oats, fruit and natural yogurt are ideal!
Therefore,eat lots of vegetables , rich in minerals, paired with lean proteins and whole carbohydrates with a low glycemic index.
Healthy nutrition for skin health
First stop excessive seasonings and foods rich in saturated fats.
Adding in balanced quantities the saturated fats found in avocado, nuts and salmon.
Green light to fruit , rich in vitamins that help the functioning of the organism.
And also provide nourishment for the dermis.
Limit your alcohol consumption , indulge in your favorite cocktail. A glass of wine or a good craft beer only on weekends.
Make sure you drink at least 2 liters of water a day .
It stimulates metabolism, digestion, cleanses the body and keeps the skin deeply hydrated.
The elixir of youth par excellence!
Beware of acne, rosacea and other pathologies
Our article we talked about acne and other skin conditions.
In these cases it always recommends to consult a dermatologist before using any skin product.
To evaluate the solutions to adopt by supporting them with a drug treatment , in the most serious and delicate cases.
In all other cases, for a day of pampering and relaxation you can follow Gamax's advice by reading the article. "10 beauty gestures to do at home"
Now shop for your skin to make it the natural jewel. That will make you shine every day, even during the dullest ones!
At last, protect your skin from sun burn, pollution, etc..
Read More : What is Beauty Blender?Description, And Its Uses
In addition, you can read more helpful resources at royalbeautyblog