8 Tips for Elevating the Casual-chic Style
Casual-chic style offers so many opportunities to make you look and feel spectacular. It doesn't require overthinking, and building a casual-chic wardrobe doesn't have to be expensive.
However, dressing casually can feel like you're underdressed. Fortunately, you can elevate your casual-chic style in record time without breaking the bank. We compiled a list of tips to help you create or update a style that's casual, comfortable and accessible yet crisp and sophisticated.
Tip 1: Grab Some Staples of Casual-chic Style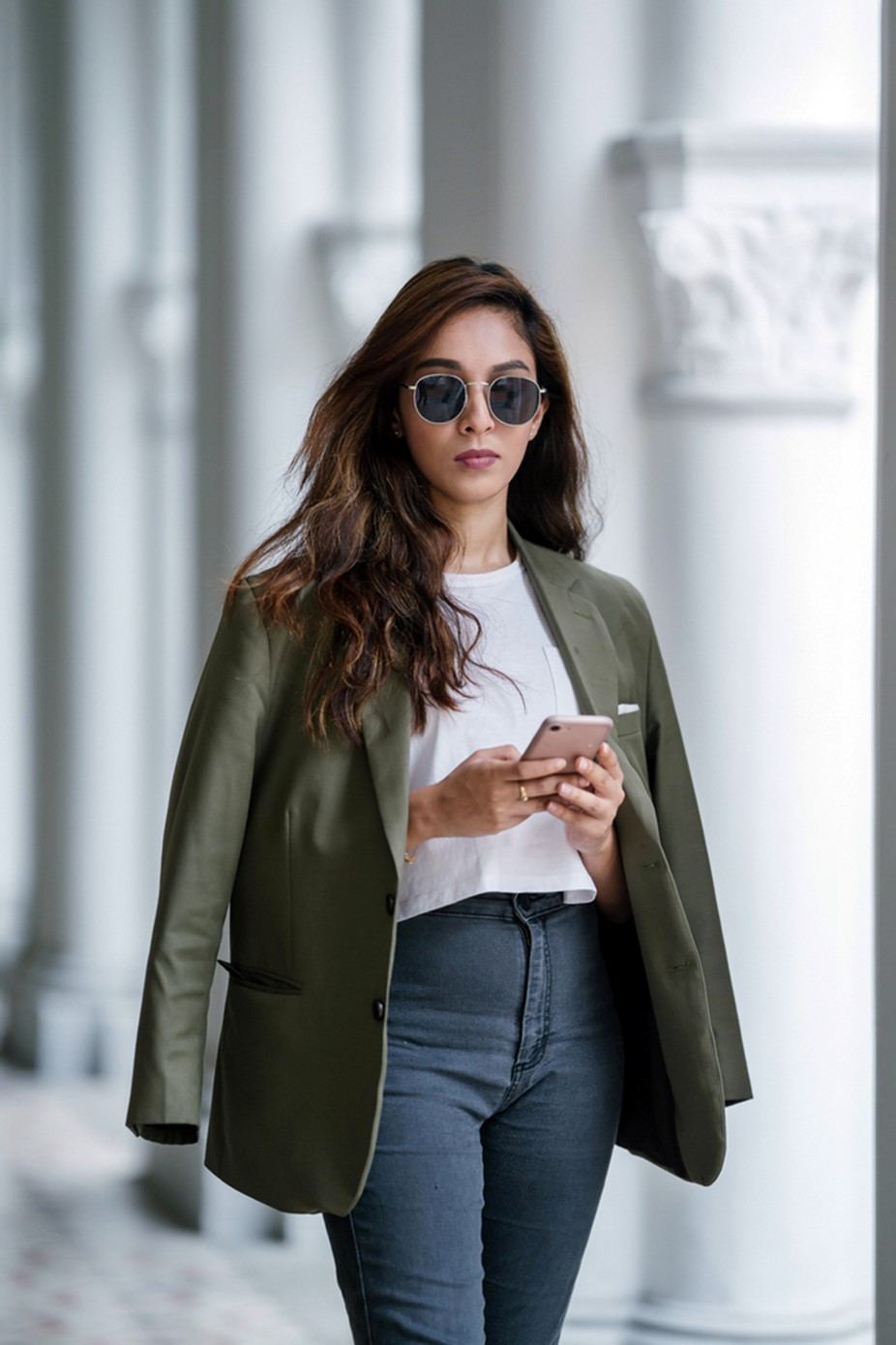 Casual-chic style is quite diverse, mixing dressy and informal elements. A common dressy element for this style is the blazer. A blazer that flatters your figure adds a composed, tailored element to any outfit. Neutral hues are easiest to accessorize and mix and match. Of course, the navy blazer never goes out of style, looking superb with dress shirts or women's basic tees.
Stretchy jeans are another great casual chic staple. They pair wonderfully with women's basic tees, slip-on sneakers and a colorful crossbody handbag for a casual, warm-weather movie date night. The plethora of stretchy jean fits, from straight and skinny to flared and curvy, makes it easy and fun to find the perfect pair for you.
Tip 2: More Distressed Jeans
Distressed jeans never go out of style. They epitomize casual chic, and the distressed effect injects personality and visual texture into your outfit. Some distressed styles have raw, unstitched hems and threadbare patches at the knees or along the thighs and hams.
These details represent a casual style. However, you showcase casual chic at its best when you combine distressed jeans with a linen button-down blouse and a pair of slightly dressy strappy sandals.
Tip 3: Slip Into a Shift Dress
Shift dresses are so versatile and easily dressed up or down. They're a one-item outfit you can throw together at a moment's notice, enhancing your look with accessories. Having two or three-shift dresses of different lengths and with different necklines gives you endless options.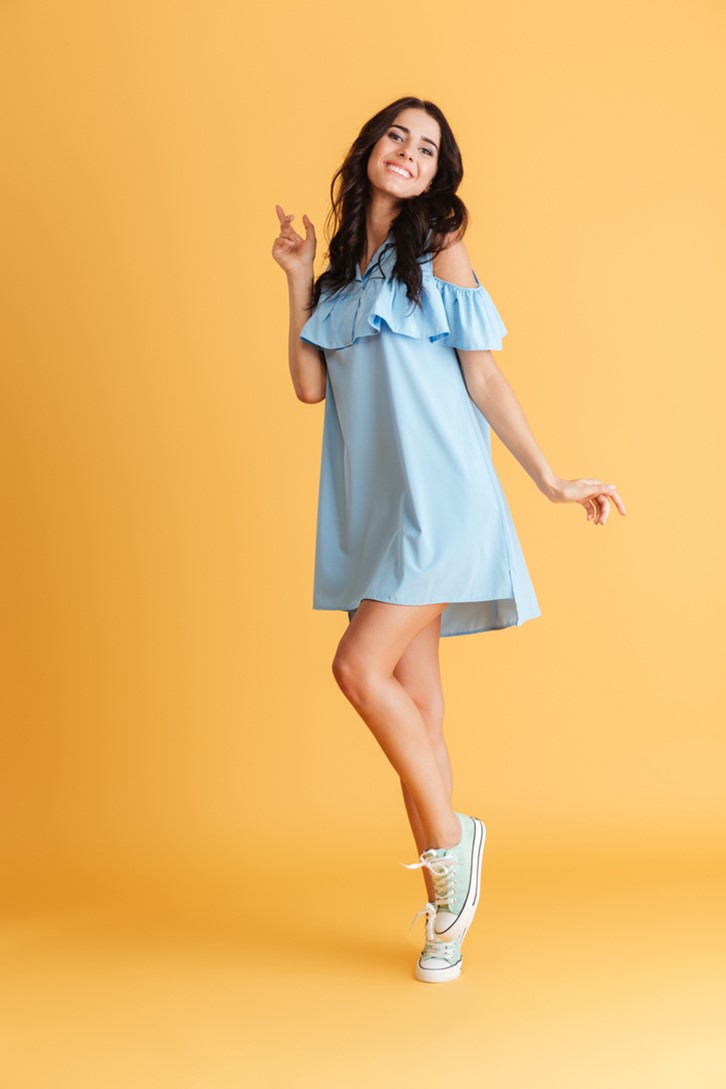 Tip 4: Wear Statement-making  Layering Pieces
Mix a neutral with a colorful base and outer layers for an exciting pop to your outfits. A fun example might be a vibrant women's v-neck tee under a thin and lightweight, neutral-hued utility jacket or boyfriend button shirt. Depending on the vibe you want to project, you can wear the tee tucked or untucked.
When temperatures climb, a v-neck tee looks just as chic on its own. Soft, high-quality v-neck tees in solid colors bring a refreshing, unpretentious feel to minis, maxis, skinny jeans or leggings and wide-leg pants. Although a bit more daring, v-neck tees also complement bike shorts and cutoff denim shorts.
Tip 5: Introduce Splashes of Vivid Color
A splash of color has so much power. Juxtaposed against neutral solids or prints, a radiant color distinguishes you from the crowd. Introduce the splash in any part of your outfit: shirt, pants, or accessories.
Using colorful prints is another great idea, like rust-orange elephant prints, pink zebras or tone-on-tone prints in Tiffany Blue or yellow. Restrict prints to one or two pieces, whether those pieces are dressy or casual.
Tip 6: Freshen Your Overall Look With Footwear
You might not create fanfare with your footwear but do try. Your footwear often serves as a punctuation mark, emphasizing the casual or chic aspects of your entire outfit. Neutral pumps can easily dress up jeans and a crew neck t-shirt. Alternatively, loafers or flats can add a humble touch to a button-up work shirt and dress pants. Slip-ons, lifestyle sneakers, mid-tops and sandals are all fair game. Pumps and boots work equally well.
Tip 7: Bag It Up Like a Pro
From a day of shopping to an evening dance at the beach, your casual or chic handbag is a must. Like footwear, bags act as your casual-chic outfit's finishing touch. There are no hard and fast rules: crossbody, satchel or clutch bags present endless opportunities to accessorize. Use them all.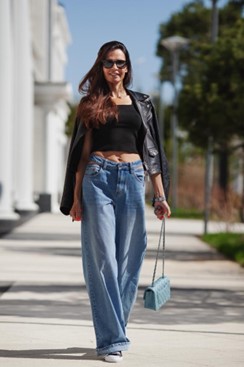 For a more classic, dressy effect, leather bags never fail. Statement handbags with cording, beading, chain straps and other embellishments bring sophistication to your look. Tote bags come in casual and chic versions, like high-end leather travel totes or everyday canvas totes.
Tip 8: Accessorize to Your Heart's Content
Shoes, handbags and other accessories punctuate your style and can add instant glamor. Tighten up your casual chic effect with luxury sunglasses, hats and belts. When using jewelry, you don't need tons of sparkle, but any precious metals you wear should be high quality.
Non-traditional and bohemian jewelry made with nonmetallic materials projects casual confidence. Mix and match all you like, taking care not to mix clashing palettes.
Lastly, invest in some exquisite silk scarves. Learn how to tie them and how to wear them properly on your body or on your head. Silk scarves connote timeless Parisian style, looking superb with everything from women's basic tees to blouses and blazers.
Practice Makes Perfectly Casual and Chic
These eight tips can help you freshen up your casual wardrobe. Start by introducing dressy elements to a simple capsule wardrobe. All your pieces should be comfortable and fashionable, and your look should appear effortless.
If your wardrobe doesn't include casual-chic staples, you can pick them up anywhere without going broke. Practice mixing and matching your distressed jeans or your shift dress with color, prints or solids. Use shoes, handbags and scarves for colorful splashes, a neutral contrast to punctuate or complete your outfit. Soon, you'll be strutting in style.