The best body oils that will make you forget about creams:If there is a must that you cannot miss in your daily skincare routine, that is body oil. The best options will make you completely forget about lotions and creams.
For starters, because the oil will leave your skin just the way you like it: nourished, juicy, and with a lovely subtle shine.
The best body oils that will make you forget about creams
And of course, it will get rid of those minor imperfections that you want to see as little as possible: scars, stretch marks, spots, lack of firmness.And much more.
Do not miss this selection of the best products on the market, full of advantages and benefits to beautify your entire body.
Akento Body Oil
Akento is by far the best choice to "erase" everything that worries you. A jewel with a dry touch that you have to have already.
A delicate aroma of citrus and flowers welcomes you with each press, but it is its formula enriched with 14 oils, plant extracts, and algae that will truly transform your skin.
Almonds, flax, chia, avocado, argan, macadamia, hazelnut, babassu, jojoba, rosehip, coconut, sunflower, olive, and marula are 100% natural.
A single application will leave your skin silky and smooth as luxurious satin and with a glow as if you kiss by the sun.
And the more you use it, the better the results will be, and the better you will look:
Firmer and toned skin
Antioxidant action to repair any damage
Visibly reduce stretch marks and scars
Zero dryness and flaking
Ultra nutrition
Minimized cellulite
Calm irritation and itchiness
Anti-ageing
Ideal for pregnant women
Feel the real effects of this wonder immediately after getting out of the shower.
Massage the oil into damp skin, and as it is absorbed, your skin will feel incredibly juicy and smell fantastic.
You won't have to wait long, as its dry touch is perfect for those of us who never have time in the morning.
Rosehip Oil from The Ordinary
Rosehip oil is valuable and popular (we have seen it present in Akento oil).
And the brand The Ordinary has wanted to offer us all its qualities with this pure 100% organic and cold-pressed oil.
When extracted using a cold-pressing, it guarantees that all its properties preserve.
Among its different benefits, it stands out, at a dermatological level, that it protects and reduces the symptoms of premature photoaging.
Likewise, it also contributes to skin regeneration by promoting the disappearance of stretch marks or other types of skin conditions.
However, it is not as complete as the last option, so we have left it at number 2.
OmmBio Pure Argan Oil
It is made from the seeds of the tree's berries that give it its name.
This oily substance has multiple skin benefits thanks to its rich antioxidants and vitamins A and E composition.
Anti-ageing results are observed with regular application on the skin, minimizing the most simple expression lines.
In addition, it is possible to stimulate the skin regeneration of minor wounds or by erasing acne marks.
This typology, in addition, is one of the few that helps improve the appearance of the hair, adding shine and repairing possible damaged ends of the hair.
Among the wide range of types on the market, I stand out for their effectiveness and results, the one from the OmmBio firm, which presents a pure, ecological composition, and its effects are spectacular.
Baiobay Coconut Oil
It is one of the famous and most used in everyday life.
It has a high percentage of saturated fats; they are not harmful due to their origin and characteristics.
This oily substance applied in cosmetics stands out for its multiple benefits.
For example, thanks to vitamin E, ageing of the dermis prevents its use. In addition, it repairs and provides luminosity.
And, as in the previous case, it can apply to the hair to repair and nourish the mane.
I stand out among all the brands for its pure composition and cold pressing, the Baiobay firm that leaves the skin super soft.
In addition, it helps to remove makeup and reestablish the pH of the skin by stopping excess sebum.
One of the excellent pros of this product is that it does not have an expiration date, since it does not lose properties or qualities.
Jojoba Oil from The Jojoba Company
This liquid used on the body and the hair comes from a plant native to the American countries, the United States and Mexico.
This type has moisturizing characteristics thanks to its optimal penetration capacity like the previous ones.
It is also characterized by its antioxidant properties that stimulate skin regeneration.
Of course, unlike in previous cases, it is usually indicated for skins with an acne tendency. As it calms and deflates the acne outbreak.
You can enjoy all its benefits with The Jojoba Company's oily cosmetic that hydrates and fights the signs of ageing and dryness of the joints.
In addition, it prevents redness and inflammation.
Satin Naturel Almond Oil
For its unique formulation and its good reviews.
I highlight the significance of Satin Naturel, an oil that promotes firmness, elasticity, and hydration of the skin.
Even though it provides spectacular results at the skin level, it is one of the most unknown.
Its elaboration extracts from the homonymous dried fruit of the almond tree. Like the previous ones, it has multiple advantages at the skin level.
In particular, its application and use are beneficial to stop and alleviate some conditions such as eczema or irritations.
It has a high percentage of fatty acids favour skin hydration and regeneration, selecting and eliminating stretch marks.
But its benefits fall a bit short, which is why it is at the bottom of the list.
What is body oil for?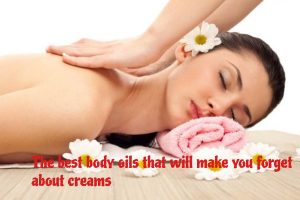 Today, a broad amalgam of typologies presents different uses and effects.
Its acceptance has promoted its consolidation as one of the essential products of the beauty routine itself, but what is it, and what does it do?
This type of oily texture cosmetics has the ability, thanks to its consistency, to penetrate the innermost layer of the skin, the hypodermis.
Its action promotes hydration of the skin tissue and improves its firmness and elasticity, preventing the appearance of possible stretch marks.
In addition, it stimulates the skin's regeneration.
Of course, depending on the type of oily cosmetic we choose, it will have specific effects or benefits at the skin level.
How are they used?
These products are considered for all skin types since they do not leave a sticky or greasy appearance.
The truth is that all the mentioned body oils are very easy to spread and require very little quantity.
In addition, they are absorbed quickly, giving the skin a natural and healthy glow.
However, like any cosmetic, applying it after the shower is recommended when the skin's pores dilate and, therefore, its penetration is easier.
With a few drops applied to the palm of your hand.
Begin to massage the chosen area with gentle circular movements, activating circulation until absorbed.
For this reason, due to its simple application and results, its multiple benefits.And its natural formula have been gaining popularity in recent years.
But the best body oil of the moment is, without a doubt, that of Akento.