How to Remove Make-up:Leaving make-up on your skin for a long time can clog your pores, mainly when applied in large amounts. The key to having great and flawless skin is to remove your make-up as soon as possible, and necessarily before going to sleep.
Why is it important to remove make-up?
Removing make-up first allows the skin to breathe and enhances the effect of cosmetic products. Failure to remove make-up can cause irritation, premature aging, and the appearance of wrinkles. In addition, the skin tends to dry out, which compromises the fixation of make-up.
How to remove make-up
Therefore, facial cleansing is essential, and experts recommend it at least twice a day: in the morning upon waking and in the evening before going to bed.
Once the make-up of the day removes, you can prepare the skin of your face for the next day with serums and specific products for the night that will give your skin a new freshness.
The night is the best time to promote skin regeneration. Cutting a few minutes off your make-up removal time will not only benefit your skin, but it will also have long-lasting benefits on your daily make-up.
What are the rules for removing make-up?
The first rule of thumb is to avoid using soap which can alter the skin's pH and cause irritation and weakening of the skin.
Instead, it is advisable to carefully choose a good cleanser that does not damage the epidermis or alter its pH level.
For sensitive and delicate skin, brands such as Nezeni have thought of a comfortable and practical solution: micellar water, a beneficial product to remove make-up in no time without dehydrating the skin. Its micelles have a precious property: they clean deeply without capturing water particles. In addition, they also have a moisturizing function and are not aggressive at all.
What make-up remover to choose according to your skin type?
The removal of make-up is essential to cleanse the skin of impurities and dust accumulated on its surface during the day. It will be more pleasant if you choose a texture adapted to your skin type.
Sensitive skin:
Choose oils or milk for their softness and avoid cotton. Pour a little product into the palm of your hand, warm it up and apply it to the face, gently massaging the skin in small circular motions.
Oily skin combines:
Opt for gel textures that provide a pleasant sensation of freshness, either in gelatin to apply with cotton or rinsed with water. Another option: alcohol-free micellar waters to avoid stripping the skin.
Dry skin:
To avoid dryness, make-up remover milk is the ideal solution. Once the skin is clean, immediately apply the moisturizer so that the skin does not become dry.
Normal skin:
Choose the most comfortable and pleasant formula to make removal an enjoyable experience.
How to remove make-up: 10 mistakes not to make when removing make-up
Do you know what mistakes you should not make when removing your make-up? The wrong products and steps can irritate the eyes and skin. Here are 10 things you don't have to do.
Removing all traces of make-up before going to sleep is essential to take care of your skin and keep it young and radiant.
The beauty ritual that removes make-up involves several steps and different products depending on each part of the face. Still, lazy people can use multifunctional products like Nezeni's micellar water.
But what are the mistakes that should not be made to remove make-up thoroughly?
Always use make-up remover wipes: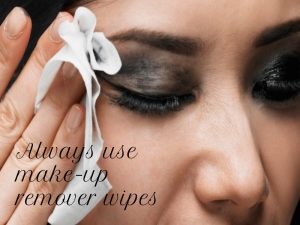 No matter how comfortable and practical they are, make-up remover wipes are not a cure for our skin. Make-up is never completely removed, and an invisible layer remains on the skin. Use them only in an emergency.
Use only one product for the face:
Each part of the face needs a suitable product. For example, it is wrong to use an eye product to remove make-up from the beginning and vice versa. In addition, targeted products have different actions and properties: cleansing milk, for example, can cause irritation and redness if used in the eyes.
Not wholly removing mascara is one of the most challenging products to remove, and it can weaken your lashes if it is not removed correctly. To remove any traces, use a cotton pad, pressing lightly downwards, then towards the other, rubbing gently on the lower part of the lashes: repeat these steps until the lashes are completely clean.
Please do not remove the inner eyeliner:
It is often not cleared with the usual make-up remover since the cotton pad does not reach all the places. To remove make-up without causing discomfort to the eyes, use a cotton swab soaked in make-up remover and gently apply a little product.
Do not hydrate the skin after removing make-up: after having removed all traces of make-up, it is essential to hydrate the skin with the usual cream to give it elasticity and softness and avoid waking up in the morning with dry and dry skin—a trick to use at night to be beautiful the next day.
Be in a hurry:
Even if you're short on time, try to save a few minutes. Nothing is worse than removing make-up and finding residue the following day.
Not using the right products for your skin:
If you have oily skin, it is counterproductive to use greasy products that shine your complexion. In the same way, that delicate eyes need a make-up remover explicitly designed for sensitive eyes. Therefore, choosing the right product for our needs and different skin types is essential.
Rubbing too hard:
When we hurry, we often think that rubbing more vigorously makes it easier to remove make-up. Unfortunately, the effect is the opposite, and the skin and eyes are much more easily irritated. Therefore, it is better to act calmly to thoroughly remove make-up from the face without stressing it too much.
Do not remove make-up from lips: you think that your lips only need to be cleaned quickly with a cotton swab soaked in a cleanser to remove make-up. However, the lips need proper care to remove all lipstick traces from the mucous membranes and lip contour.
Using exfoliating products too often:
Scrubs are beauty allies by removing dead cells and giving skin tone and luminosity. However, they stress the skin and make the epidermis more sensitive if used too often. Therefore, the use of make-up removal products with exfoliating action should be limited.
Steps
We are structuring the eye area. Use a mild make-up remover suitable for the eye area. Remove all or most of the products used, such as eyeliner, mascara, and eyeshadow powder or cream.
Take a steam bath. Cover your head and shoulders with a towel and bend over a sink full of hot water. The steam will open the skin's pores, removing make-up residue trapped in the pores and promoting a deep cleaning.
Remove make-up from your lips:
Apply a small amount of make-up remover oil to your lips and gently massage them with a tissue or make-up remover cloth. Fold the fabric and wipe the lips.
Use a mild facial cleanser. You should be able to remove most of the make-up. Ensure that the product used is not aggressive and that you do not apply too much force.
Gently cleanse the eye contour and remove make-up from the inner ring with a moistened cotton swab.
Wash your face with cold water to help tighten your pores—hydrate body skin with a nourishing product that does not contain harmful chemicals.
Remember that you should always dry the skin on your face with a clean towel. Avoid rubbing it with the fabric.
Advice
If you do not have make-up remover oil, try coconut or olive oil, it will be enough to massage all the skin of the face gently.
Do not use an exfoliating product daily, as otherwise, skin dehydration will occur.
Choose zero waste face moisturizer to avoid clogging your pores.
If you haven't applied mascara, you can skip the first step and use the steam bath first. Done correctly, it will remove most of the make-up.
Add a few drops of essential oil of orange or eucalyptus to your make-up remover product; it will be like having an aromatherapy session.
Warnings
Don't start by washing your face; you would dry your skin without removing a lot of make-up.
Do not exfoliate the skin excessively with abrasive products. It could damage your skin by making it look dull and wrinkled.
Also Read: Does your baby have atopic skin?This Is All You Need To Know